IDCosm,
the Innovation platform
IDCosm, the springboard for cosmetic innovations.
Set out your innovation project and take advantage of a variety of opportunities to spread the word about it and put it to the test with experts from the fragrance and cosmetics sector. 
You are a public research actor, a start-up, an SME/ETI that carries innovative projects that can meet the challenges of the cosmetic industry: Identify your project(s), challenge it(them) and take advantage of multiple opportunities! 
Create an account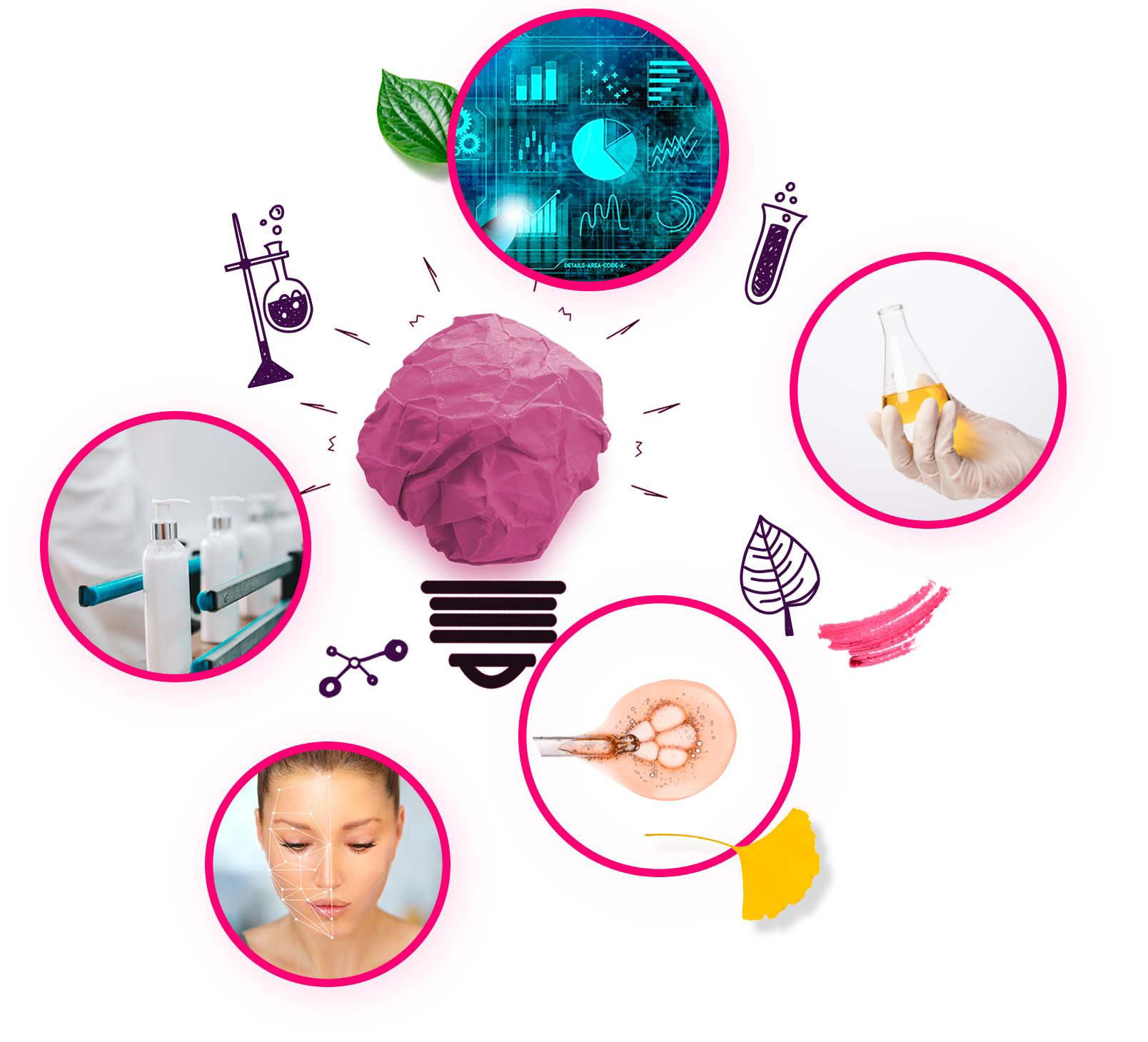 How and why should you use this platform?
If you think that your project can help drive innovation in the cosmetics and fragrance industry, then:
1- Create your personal account
2- Fill in the description of your project, that you can update at any time
3- View the list of your submitted innovation projects
Take advantage of a variety of opportunities to promote your idea and put it to the test
Meetings with professionals from the industry
An international competition for the best innovation applicable to the cosmetics sector (THE COSMETIC VICTORIES)
Opportunities to expand your network of contacts
Presentation at a themed conference on innovation in the field of cosmetics
Support with the construction and follow-up of your project
And more…
Please note: to get the benefit of all these services, the information about your project must be provided in French and English

Overcoming the challenges of the environmental and digital transitions while ensuring the efficacy and safety of cosmetic products requires the development of innovations to meet the ever-shifting consumer demand in France and abroad.
Public research institutions, start-ups, and SMEs can be sources of innovative projects that further the development of new technologies, services, and processes to meet the challenges faced by the fragrance and cosmetics industry.  
This platform offers you a way to spread the word about your project, benefit from connections with people in the business, and take advantage of opportunities to put your project to the test and expand on it.
Innovations for the whole industry:
On this platform, you can submit any project addressing an issue at any stage of the design and distribution of a product in the fragrance and cosmetics sector. The cosmetics industry includes all companies active in the development and production of:
plant-based products for the fragrance and cosmetics sector
active ingredients, as well as functional ingredients (emollients, texturisers, stabilisers, preservatives, etc.)
formulated products in the areas of skin and hair care, make-up, hygiene, and fragrances
innovative measuring instruments and methods applicable to the skin, knowledge of the product and its interaction with the skin, hair, teeth, nails, or hair
biological and sensory tests aimed at better understanding and evaluating the safety and efficacy of raw materials and finished products
innovative manufacturing machines and equipment, as well as processes involved in the manufacturing and packaging of cosmetic products
processes of formulations in the sector: powders, emulsions, gels, serums, butters, etc.
processes to ensure the traceability of materials and finished products
primary packaging directly in contact with the product: jars, bottles, tubes, caps, dispensing pumps, etc.
secondary packaging: boxes, cases, etc.
IOT technologies for the field of Internet-connected beauty
innovative digital solutions for product distribution and the consumer experience
innovative solutions for transport and logistics
(among others…)
 The innovation challenges faced by the cosmetics and fragrance industry
The major innovation challenges faced by the sector can be presented in six cross-disciplinary areas applicable to the various aspects of the industry:
Safety/quality/traceability: Safety, Toxicology, Microbiology, Skin microbiota, Preservation, Interactions, Transfers between containers and their contents, Regulatory compliance
Efficacy of products and processes: Characterisation, Measurement, Testing, Objective analysis, Physiology, Imaging, Vectorisation, Encapsulation, Stabilisation, Sensory analysis, Biology, Photonics, Pharmaceutical formulation, Rheology, Targeting
Naturalness: Plant bio-sourcing, Algae, Cosmetopoeia, Biodiversity, Sector structuring, Biotechnology, Bio-processes, Eco-processes, Eco-extraction, Greentech, Bio-sourced materials, Environmentally friendly chemistry, Eco-toxicology
The circular economy & CSR: Environmental impact, Resource consumption, Upcycling, Recycling, Substitution, Elimination of carbon emissions, Energy savings, Water consumption, Eco-design, Elimination of disposable packaging, Reduction, Reuse, Life-cycle analysis, Compostable waste, Societal impact, Well-being, Emotion, Sensory perception (olfactory, tactile, visual, acoustic, neuroscience, mental health)
Connected beauty and digitisation: AI, Data analysis, Big Data, Algorithms, Augmented reality for devices, Online retail, Customisation, Prediction
New technologies & processes: Mechatronics, Automation, Electronics, Connected factories, Industry 5.0, Robotics, Digital twins, Supply chain, 3D printing, Rapid prototyping
Our themes
Biosourcing
Green technology
Digital & Device
Artificial intelligence
Sustainability
Biotechnology
Microbiology
Biology
Evaluation method
Sensory
Mechatronic
Material
Augmented reality
Toxicology
Imaging
Traceability
Emotion - Well-being
Formulation
Create an account